High Sierra is known for their versatile adventure travel gear.
The AT7 carry-on spinner is one of those products. At 22 inches tall, the AT7 is the maximum carry-on size for most airlines and has the build and look fit for an adventure traveler.
While the High Sierra AT7 is considered a duffel, it's a lot more like a standard suitcase, except with duffel bag straps. From my time testing, I hardly had a need for the duffel handle. It was more convenient and made more sense to use the top handle.
Pros:
Versatile
Reasonably priced, around $126
Carry-on sized
Spinner wheels make it easy to maneuver
Has stowable backpack straps, allowing you to carry it on your back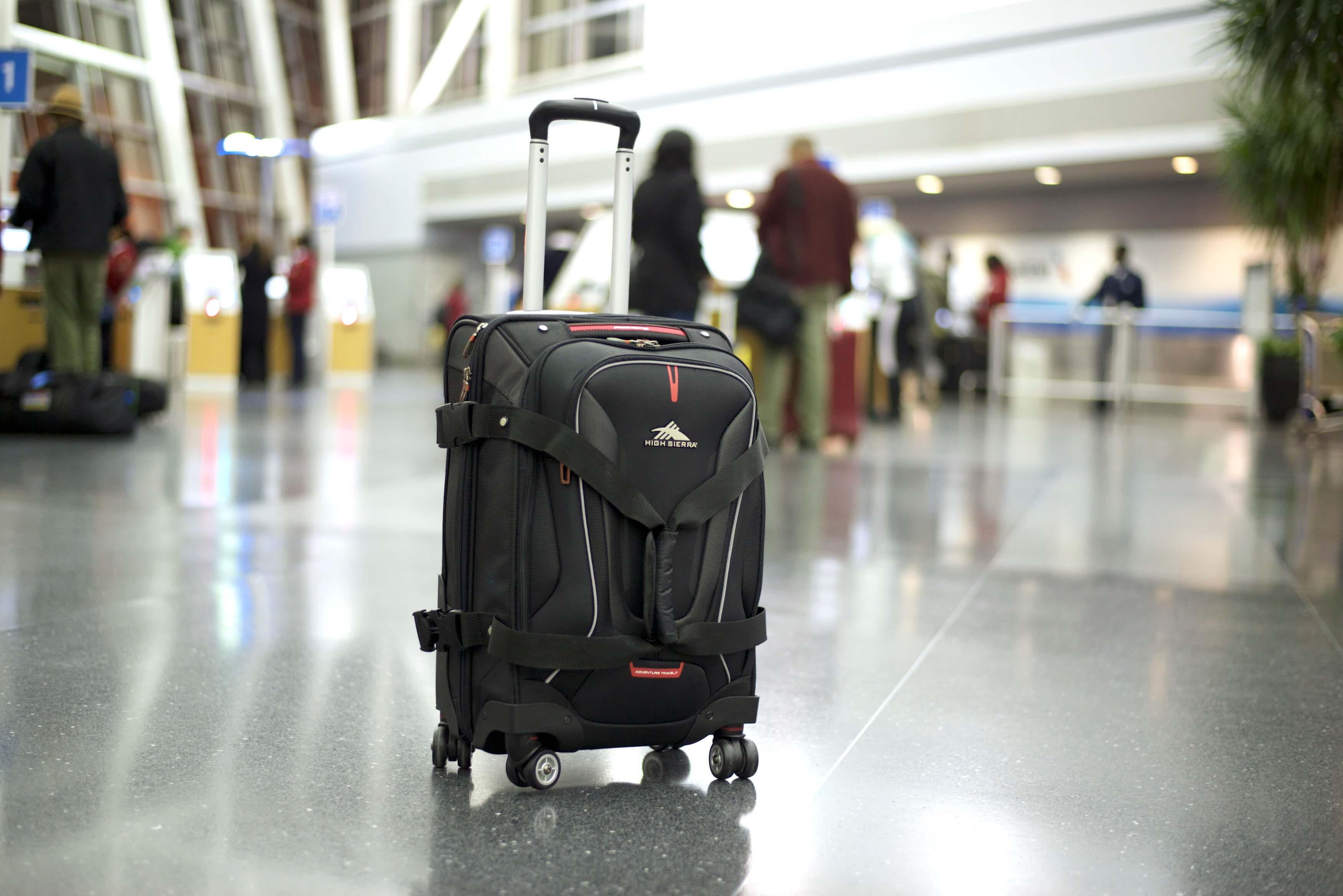 Honestly, it's not really comfortable to wear this suitcase/duffel as a backpack, but the ability to wear it as a backpack gives travelers a bit more freedom – it's a useful feature if you're traveling some place with cobbled streets or lots of stairs. In those situations, you could just pull the straps out, wear the AT7 as a backpack, then stow the straps away and continue rolling.
While traveling around New York City with this bag, I was able to pull the backpack straps out when going into the subway so I wouldn't have to hold the bag when going down the stairs or awkwardly go through the turnstile while rolling a bag behind me.
With it on your back, the High Sierra AT7 is heavy, uncomfortable and looks strangely boxy. I wouldn't buy this luggage with the intention of using it primarily as a backpack, but the lightly padded backpack straps are a good fall back option.
Weight:
The High Sierra AT7 weighs 8.3 pounds when empty, according to my luggage scale (not taken from manufacturer's specs). The weight is average for most carry-ons. Other carry-ons I've tested, such as the Victorinox Spectra and the Delsey Chatillon weigh 7.1 and 4.6 pounds respectively.
It's not uncommon to see carry-on suitcases that weigh around 4 pounds, and some suitcases, like the IT Luggage (which weighs only 3.6 pounds and costs under $50! (but isn't the best quality)) weigh even less than that.
Durability:
Usually, there are just a few areas – most vulnerable components – where suitcases usually break: the wheels, the zippers, and the handles. Soft-sided suitcases almost never tear, and it's relatively uncommon to see hard-sided suitcases crack. It's the small components that end up breaking, rendering the entire suitcase useless.
So how are the components on the AT7? They're alright.
The quality isn't on par with Victorinox, which is expected – this bag is $250 cheaper than the Victorinox suitcase I recently tested. The zippers are smooth and durable. The protracting handle is robust, but a little wiggly and prone to getting stuck. The wheels are quite hardwearing and smooth, but not completely level as you might be able to tell from this photo:
There could be some improvements in terms of build quality, but overall, I'd give the High Sierra AT7 Carry-On Duffel Spinner a 7/10 durability rating.
Interior and Organization:
The interior of the AT7 is divided into two main parts: (1) the clam-shell style opening (2) the front pocket.
If you unzip a panel in the clam-shell opening (see photo above), you can access the front pocket.
The front pocket allows you to access some of your clothes or gear without having to open the main compartment.
One thing that can be annoying about accessing the front pocket is that the duffel straps are in the way. You'll have to undo the velcro that attaches to two straps to open the pocket completely.
When traveling with this bag and all suitcases in general, I recommend using packing cubes. Packing cubes are like portable drawers and make it a lot easier and less of a hassle to organize your clothes. You can read more about the pros and cons of packing cubes.
Cons:
Handle is not very smooth
The wheels aren't level (read more about this in the durability section above)
The zippers aren't lockable
The current zippers on the High Sierra luggage aren't lockable like the ones in the picture above. You could potentially lock the current zippers by the pull tab, but that wouldn't be as secure or convenient as real lockable zippers.
Read more: 7 Best Luggage Locks for Travelers
The Verdict:
The High Sierra AT7 spinner is a solidly average suitcase with an above average value. The AT7 gets the job done, but some aspects, like the handle and wheels, could be improved. You can pick it up for around $126, making it a favorably priced bag – ideal for adventure travelers, vacationers and everyone in between.
High Sierra AT7 Carry-On Spinner Duffel Ratings
Durability -

7/10

Design -

7/10

Weight and Portability -

8/10

Organization -

7/10

Value -

9/10
Where To Get It:
What are your thoughts? Have you tried any of High Sierra's products? Leave a comment below.
The High Sierra AT7 Carry-On Spinner Duffel was provided for this review. As always, this High Sierra luggage review contains only my honest views and opinions. 🙂 Find out more about me and this site here.