Back when I was traveling in South America, I noticed something.
Regardless of the temperature or climate, everyone wore jeans. Whether I was in La Paz, Bolivia, with temperatures ranged from the 60s to below freezing or in Guayaquil, Ecuador where the temperature was almost always in the mid 90s, most locals wore jeans.
Prior to getting my Levis 511s, I hated jeans. I had lived in Florida, and there was never a need to wear jeans. They were heavy, bulky and too hot for the climate, or so I thought.
But in South America, the fact was that even if it the humidity level was over 85% and the temperature somewhere in the 90s, everyone still wore jeans. And I was that sore-thumb, American tourist wearing Nike shorts.
After traveling, I realized the value of jeans. Not only were they versatile, wearing jeans was a way to respect and try to blend in with the locals.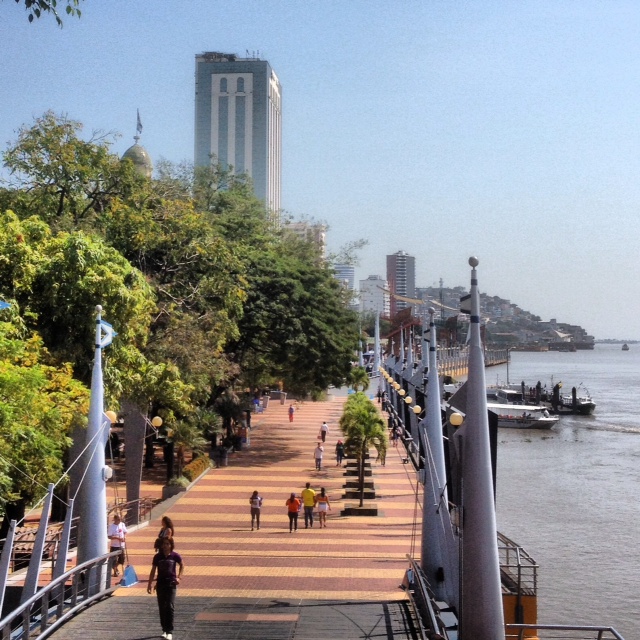 Since getting my Levi's 511s, I've found that jeans aren't that bad after all and I'm starting to like them. Here are some of my thoughts on the Levi's 511 jeans:
Pros:
Versatile
Durable
Great fit, modern but not too tight
Comfortable
Warm
Well priced, can be found for about $45 on Amazon.com
Jeans are the staple of menswear and are especially useful for travelers due to their versatility. The Levi's 511 jeans in the dark blue shade which I own can be worn with a t-shirt or even a sport coat. I usually wear my jeans with polos or dress shirts and boots like the Cat Footwear Abe Canvas or the Ahnu Parkside shoes.
Levi's 511 jeans come in tons of colors and washes including white, black, light blues, dark blues, etc. I have the 'Sequoia' color, which is a deep indigo and a bit faded around the knees and thigh.
The Levi's 511s in 29W X 30L weigh 1 lb. 6 oz. according to my very accurate kitchen scale. The weight gives them a really durable, bulletproof-feel.
While I usually prefer shorts in 80°F+ weather, jeans can be worn whether it's warm outside or if it's cold. The Levi's 511s are warmer than most travel pants and I've been able to wear my 511s in below freezing temperatures.
Fit and Sizing:
I really like the slim fit which isn't as tight as skinny jeans but more modern and form fitting than regular jeans. I'm 5'8″, 130 pounds and wear size 29W X 30L.
The 511 fit is slimmer in the thigh and knee and also has a smaller cuff opening than that of straight fit jeans. They're comfortable and not restrictively tight. The legs are tapered as well.
These jeans aren't stretchy and contain 1% spandex, 99% cotton.
As I've worn the jeans, they've stretched a bit in the waist area and in the thigh area. When I first wore the 511s, the thigh area was pretty tight and it was a bit hard to slip my phone into the front pockets, but now I can slide them in easily. Since the waist has stretched, the pants have been a bit looser there and aren't quite a perfect fit there.
Here are the measurements of my 29 X 30 pair which I've measured by myself, not from manufacturer:
Waist Measurement: 31in

Front Rise: 9.5in

Thigh (2″ down): 20in

Knee (15″ down): 15in

Cuff Opening :14in

Inseam: 30in
Interestingly, when I measured the waist of the pants, it was actually 31 inches rather than the advertised 29in. I'm guessing that was partially due to vanity sizing, the jeans stretching and the fact that the jeans sit below the waist.
Cons:
Heavy (1 lb. 6 oz.)
Difficult to hand wash
Like all other jeans, the Levi's 511s are hard to handwash, which can be a con for travelers who need to wash their jeans while traveling. If you're not traveling, this doesn't apply, since you could just toss your jeans into a washing machine. These jeans are slow to dry as well, so if you spill something on them while traveling it will take a while for them to dry off.
One thing about jeans, though, is you usually don't have to wash them until after several wears. Some people, including Levi's CEO claim you should never wash your jeans because it messes up the jeans' fades and color. Instead, you could spot clean your jeans.
Unlike traditional travel pants, jeans are heavy. The weight adds to their durability as I mentioned in the 'Pros', but if you're ounce counting, you might not want to pack jeans.
The Verdict:
Don't stick out like a tourist. Everyone, whether in Guayaquil, Ecuador or Guangzhou, China wears jeans. They might be heavy and difficult to wash, but they're also amazingly versatile, durable and presentable. Levi's 511s have a great cut which isn't restrictingly skinny yet has a modern fit. The 511s are durability and perfect for all globetrotters.
The Levi's 511 jeans cost retail $68.00, however you can find them for about $47 on Amazon.com.
Levi's 511 Jeans Ratings
Style -

10/10

Versatility -

10/10

Fit/Comfort -

9/10

Value -

9/10
Where to Get These Jeans:
What do you think about the Levi's 511 jeans? Leave a comment below.