I never would have expected getting street food in NYC was going to be that difficult. While wandering around Midtown Manhattan, our family decided we would try to act like locals by getting some street food for lunch. It didn't take long for us to find a food truck selling halal gyros, falafels and chicken over rice.
We should have known better because everything about the food truck screamed out tourist trap. First off, the food truck was located in Times Square. That should be enough to scare all the locals away. Later on, we found that every entrée we bought was about $3 more than every other food truck.
At the food truck, I ordered chicken over rice, which cost $8. The food truck owner asked whether I wanted to put a white mayo looking sauce in my rice, but I declined since I'm not the most keen on mayo. Then he asked if I wanted a red spicy sauce on my rice, so I shrugged my shoulders and said "Sure", thinking that it would be as spicy as Flamin' Hot Cheetos, which aren't actually spicy at all. The man consequently squirted out a generous amount hot sauce. That was probably the worst decision I made in my entire stay in NYC.
Once we all finished ordering, we just remembered that we didn't have a place to eat our food. It was still winter and below freezing outside so we needed to find somewhere warm for us to eat. Thankfully that wasn't an issue since we found a large indoor public area in 5th Avenue with tables and chairs, which was perfect.
After getting all of my gear situated, I opened my plastic container which held my chicken over rice. The food was actually pretty good as there were lots of exotic spices and Middle Eastern flavors. There was a generous amount of yellow rice and a few pieces of chicken. My first bite was a real flavor explosion. It was all good, until the heat kicked in. I'll try not to exaggerate the spiciness, but it was overpowering to the point of being painful. The red sauce was about as spicy if not more spicy than a habanero, so it had to be somewhere in the 500,000s of the Scoville scale. I could feel the burn starting from my lips down to my stomach. It was probably the sheer amount of sauce that the man put in my rice that made the difference between it being enjoyable and overpowering. After eating less than a quarter of my chicken over rice in quick succession, I had to throw in the towel for the next 15 minutes. My meal eating turned out to be a start-stop sequence because I was hungry and needed to eat, but then had to stop when it became unbearable.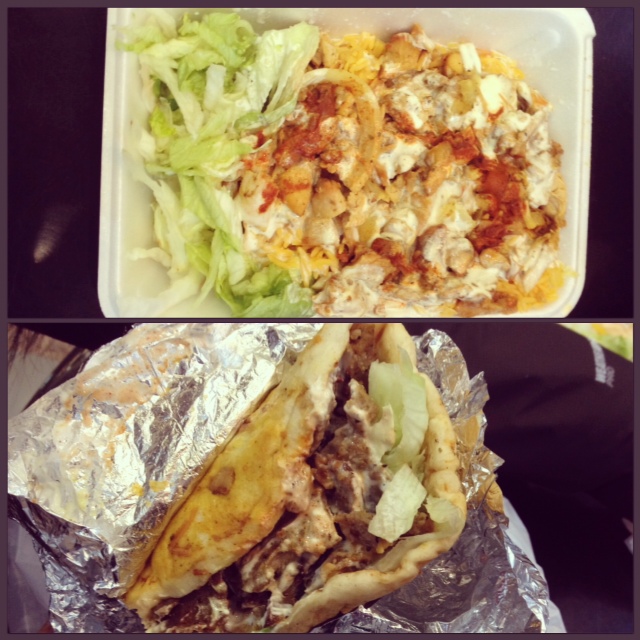 Eventually I 'manned up' and finished my chicken over rice. I learned that the white sauce was supposed to counteract the hot sauce, but I guess I've learned my lesson. Ever since the incident, I've eaten at a couple of other halal food trucks later on and remembered to pass on the hot sauce.
You can read my mom's take on our NYC food cart experience here: travelwritingpro.com/nyc-food-cart
Do you have any interesting street food experiences? Leave your comment below.
Photo Credit: Unsplash.com