To kick off the new year, I've been looking for a change for my laptop. While browsing Pinterest, I came across some awesome MacBook decals/skins which really add flavor, color and personality to your computer.
Note: I don't make any commission from showing you these decals, I just think they are really cool and had to share it. 🙂 Also, I haven't purchased all of these, so I can't guarantee that they are all great products, only that they look cool from the pictures.
I've come up with a list of the 10 ten coolest looking laptop skins, most of which (according to the seller) fit MacBook Airs and MacBook Pros.
1. The Wave MacBook Decal
With this laptop skin, you can constantly appreciate the legendary woodblock print by Katsushika Hokusai, The Great Wave off Kanagawa. It will definitely give your MacBook Pro or Air an Asian feel, and a unique look.
Get it here.
2. American Flag MacBook Decal
Show your American pride with this decal. The skin just screams out "Fourth of July" and has a vintage-rugged look which will make your Macbook catch the eye. Ironically, it's made in China. 😀
Get it here.
3. Flower Macbook Decal
This flowery and unashamedly feminine laptop decal will turn your laptop into a work of art. The skin looks detailed and almost as if it was hand painted onto your laptop. If your bring your own laptop to work, I'm sure this will instantly boost your workplace popularity.
Get it here.
4. Even More Flowery MacBook Decal
Assuming you really like flowers, this MacBook decal + keyboard decal is perfect. Although I'm not a huge fan of flowers, I still think this decal looks awesome, especially since the matching keyboard skin really flows with the whole flower theme.
Get it here.
5. World Map MacBook Decal
This world map decal will inspire you to travel, or at least help with your geography. The map looks to have a vintage/earthy style, full of natural colors.
Get it here.
6. Universe/Stars MacBook Decal
If the map decal inspires you to travel, then this MacBook decal would make you want to explore the galaxy, or to belt out E.T. by Katy Perry. This extraterrestrial skin has a futuristic feel and includes a keyboard skin which will compliment the top decal.
Get it here.
7. Pastel Grunge Paint Splash MacBook Decal
What better way to add color to your laptop than by slabbing a grungy-pastel decal on the front. The decal makes it look like you splashed paint on your MacBook. Plus, this laptop skin also includes an extra skin for the bottom of your laptop.
Get it here.
8. Starry Night MacBook Decal
This incredibly detailed MacBook skin will definitely inspire you while you're doing computer work. Based on the world renowned painting, The Starry Night by Vincent van Gogh, the decal makes a statement.
Get it here.
9. Rainbow MacBook Decal
This MacBook skin would probably be the equivalent of you melting a bunch of Crayola crayons on the top of your laptop – minus the permanent damage that would cause. The skin is both vibrant and eye catching.
Get it here.
10. Vintage Map MacBook Decal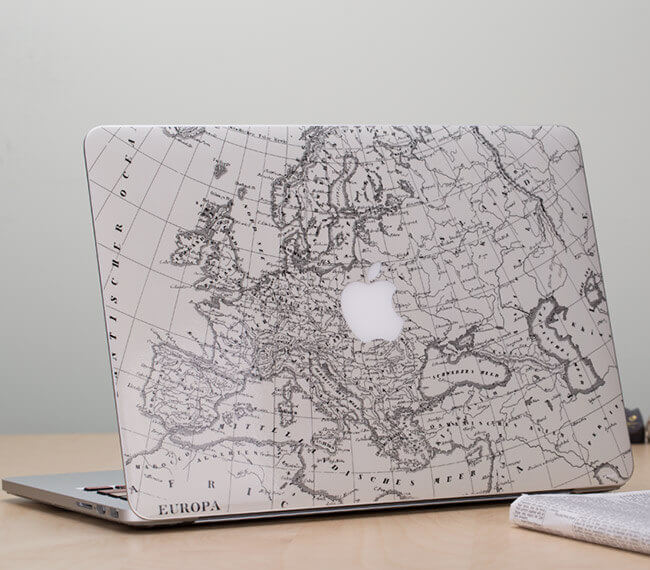 The map decal, probably my favorite decal, depicts Europe and some of Northern Africa, which adds a cool travel feel to your laptop. The decal seems to almost blend in with the laptop without being overly showy, but still adding a unique touch.
Get it here.
Do you use laptop skins/decals? Leave your comment below.
Pin this: